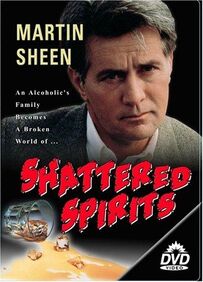 Shattered Spirits is a 1986 television drama movie that aired on the ABC network on January 6, 1986.
The film starred Martin Sheen and Melinda Dillon.
Plot
[
]
When his drinking problem takes control of his life, a father (Martin Sheen) tries to put an end to his addiction while putting his and his family's lives back together.
Cast
[
]
Martin Sheen as Lyle Mollencamp
Melinda Dillon as Joyce Mollencamp
Matthew Labyorteaux as Ken Mollencamp
Lukas Haas as Brian Mollencamp
Roxana Zal as Lesley Mollencamp
Jill Schoelen as Allison
Jenny Gago as Mavis
Gaby Madelik as Mrs. Donovan
Lenny Hicks as Officer Pratt
Dyana Ortelli as Mrs. Martinez
John Hertzfeld as Detective Pearlman