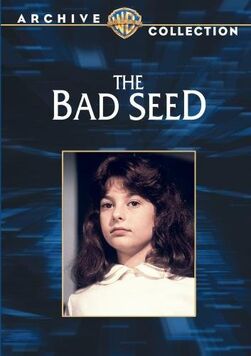 The Bad Seed is a 1985 ABC network television movie which aired on February 7, 1985.
It is a remake of the 1956 film of the same name.
Plot
[
]
Rachel Penmark is a 9-year-old girl who looks like the picture of perfection, but is a cold-blooded killer.
Several disturbing recent incidents have led Rachel's mother, Christine to suspect that her child is responsible for them. Christine also has recurring memories of her mother searching for her.
Christine's adoptive father tells her about her biological mother, who was a convicted killer, and Christine is convinced that Rachel inherited her grandmother's madness.
Cast
[
]
Blair Brown as Christine Penmark
Carrie Wells as Rachel Penmark
Christa Denton as Rhoda Penmark
Lynn Redgrave as Monica Breedlove
David Carradine as Leroy Jessup
Richard Kiley as Richard Bravo
David Ogden Stiers as Emory Breedlove
Chad Allen as Mark Daigler
Weldon Bleiler as Fred Daigler
Trailer\Promo
[
]